responsibility and values
Our Modus Operandi
Dedicated to responsible sourcing and manufacturing processes, reducing our environmental footprint is essential and we are constantly refining methods to do better. Intentional and concise, each piece is produced in limited quantities. Julia Taylor prioritizes certified natural fabrics and organic fibres, as well as innovation in textile circularity. An advocate of supply chain transparency, we proudly manufacture in Australia, New Zealand and with our Fair Trade Certified maker in India.
Material Choices
Committed to procuring high quality materials each piece is made exclusively from natural fibres and fabrics. Driven by positive ethical, social and environmental values, our focus is to prioritise and incorporate organic and chemical free textiles and to support innovation in textile circularity. The Resort '23 Collection incorporates GOTS certified organic cotton, up-cycled cotton cloth and bio-resin buttons.
Up-cycled Cotton
Sourced from circular design initiative, The New Denim Project. Our Signet Pants are made from fabric that contains 50% up-cycled cotton, derived from post-industrial textile waste. The raw material is collected from local garment factories and regenerated through a chemical and dye-free process to create this 100% natural and compostable woven fabric.
Certified Organic Cotton
Our Gathered Mini Dress and Raglan Shirt Dress are crafted from GOTS certified organic cotton. The Global Organic Textile Standard (GOTS) is the worldwide leading textile processing standard for organic fibres, including ecological and social criteria, backed up by independent third-party certification of the entire textile supply chain.
Bio-Resin Buttons
The buttons on our Raglan Shirt Dress are produced using more than 25% of fruit and vegetable waste. We created these custom bio-resin buttons with FM buttons. Development of sustainable and ecological buttons is the basis of their philosophy and values and they use alternatives to standard polyester raw materials.
curating a timeless wardrobe
A reflection of the movement to a seasonless approach to a purposeful wardrobe, the collection is a transeasonal offering that caters to both hemispheres. Speaking to a philosophy grounded in timelessness every garment combines premium fabrics and exceptional craftsmanship, available exclusively online at juliataylor.co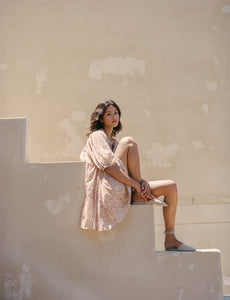 Packaging
We have limited our packaging to essential items that will protect your order.
Our Custom Tissue Paper is printed using soy-based inks and is made from FSC-certified, recycled paper and is fully home compostable after use. We use tape that is made from rice paper, printed with non-toxic inks and adhesive and it is home compostable.
Your order is sent in a 100% home compostable shipping mailer.
Acknowledgement of Country
Julia Taylor is based on Bundjalung Country, and acknowledges the traditional custodians of country throughout Australia and their connections to land, sea and community. We pay our respect to their Elders past and present and extend that respect to all Aboriginal, Torres Strait Islander and First Nations peoples today.